Pearl Teak
Brand: Inovar – Dream Living.
Abrasion Class: AC 4 Grade – German balance board, wax guard +, white core.
impact resistance: IC2
Thickness: 8mm Laminate wood floor
Profile: Interlock system – Nail & glue free installation
Board Density: > 850kg / m3
Sheet size: 8″ x 48″
MOQ: 102 Sq.ft. (Chargeable in 25.5 Sq.ft. blocks)
Stocks: Subject to availability.
Made from high quality eco-friendly raw materials, Inovar Laminate Flooring is strong and robust enough to give your floor a longer life. Its beautiful décor and highly scratch resistant surface will help to maintain a beauty interior while creating a lasting impression.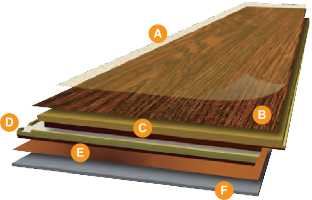 A. Highly Anti-abrasive Protective Overlay
The anti-abrasive protective overlay consists of millions of aluminum oxide particles and it is a highly effective protection against the scuffs and scratches that your floor is subjected to.
B. Melamine Impregnated Decorative Film
Reproduced through sophisticated processes and techniques, this layer gives your floor a natural and true-to-life décor that is practical and functional, and also extremely eco-friendly.
C. CoreGuardd High Density Hardwood Fibreboard (HDF)
The CoreGuard HDF is highly water resistant, and it is also made with materials from sustainable sources. It has a higher density than natural timber and this makes it very impact-resistant and durable.
D. WaxGuard+ (Edge Protection)
This wax treatment on the edges gives the floorboard an additional protection against moisture, makes installation a breeze and at the same time, helps to reduce squeaking noises caused by uneven subfloors.
E. Balancing Film for Dimensional Stability
This optional feature comes in the form of a pre-attached foam layer that helps in noise absorption and can be applied to all product ranges on request.
F. SilenPro Sound-Absorbing Layer (Optional)
This layer on the back surface acts as the moisture barrier and helps to balance up the board and provides the flooring panel with good dimensional stability.
A Complete Range of Accessories
Inovar offers a range of flooring profiles and skirting made of various materials that are closely color-matched to complement the décor of your floor.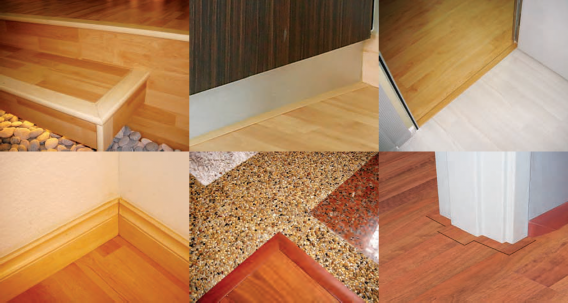 Staircase Profile
As staircase nosing at the edge between the raise and step.

End Profile
For proper borders of different floor levels, in front of adjacent sills, tiles or other raised surfaces or platforms.

Transition Profile
For transition between floors of the same level.

Skirting Profile
For covering expansion gap at the edge along the base of the walls. Available in various heights.

Adaptation Profile
For connecting Inovar Laminate Flooring with adjacent lower surface (carpet, PVC and so on).
Woodhauz Profile
Matching color profile for concealing expansion space at the foot of the doorjamb. Mainly used when a transition profile is not installed between the two connecting areas.